By Brittany Nelson, USAS Public Relations & Communications Manager
COLO SPRGS, CO (March 28, 2023) – Mary Tucker earned a silver medal in Women's 10m Air Rifle at the Bhopal, India, International Shooting Sports Federation (ISSF) World Cup, March 24, 2023.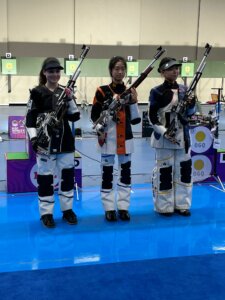 "I am really proud of how the competition went, it ended up being a lot of fun," said Tucker. "I am very excited for the next World Cups."
Tucker, a 2020 Olympic silver medalist, shot in the qualification round, followed by the ranking match where she earned herself a spot in the finals. She beat Alexandrea Le, of Kazakhstan, who placed third, then fell to Yuting Huang, of China, in a shoot off.
"I was definitely a little bit nervous going into this World Cup, sometimes the first one kind of sets the tone for the rest of the season," said Tucker.  "I started off rough but knew I still had a chance and fought really hard during my match. I went into the final confident and with a goal of having a perfect process regardless of the outcome."
Tucker went into her first international competition of 2023 after a very successful season last year. In 2022 the Sarasota, Florida, native earned bronze in Women's 50m Rifle Prone, and silver in Women's 10m Air Rifle team at the ISSF World Championships. Tucker also brought home five medals from the 2022 Championship of the Americas Games and a U.S. Olympic quota for the Paris 2024 Games in Women's 10m Air Rifle.
Sagen Maddalena, a sergeant in the Army Marksmanship Unit, competed in the Women's 10m Air Rifle event as well where she placed sixth overall. Maddalena went on to shoot in the Women's 50m Rifle 3 Positions event, finishing seventh.
Kristen Derting, a rifle shooter at the University of Mississippi, also competed in the Women's 10m Air Rifle event. She qualified for the final but was shooting for ranking points only, not allowing her to compete in the final.
Tim Sherry, another sergeant in the Army Marksmanship Unit, shot in the Men's 50m Rifle 3 Position event. He made the final and placed seventh overall.
Sherry and Maddalena placed tenth overall in the Mixed Team Air Rifle event.
The next Rifle/Pistol World Cup will take place in Lima, Peru, April 11-22.
Follow @USAShooting on Facebook, Twitter, and Instagram for all of the latest news.